To be successful, a big project requires inspiration, and that can come from anywhere—even an essay prompt. Known for its quirky admissions essay questions, the University of Chicago once regaled prospective students with a prompt based on superstring theory. Patterns of string, whether or not they undergird the structure of the physical world, have always enriched life, the prompt suggests, offering a handful of examples before asking applicants to use the power of string to explain the biggest or smallest phenomenon. The prompt is expansive, not only because of the big question it asks, but because of the limitless variety of the potential essays one could write in response.
PrepMatters posed its own big question to lead architect Ryan Byrnes* of ZGF Architects in Washington, DC when it asked him to help design the new PrepMatters Tenleytown office space. Having narrowed its options to three properties, PrepMatters engaged Ryan to conduct a feasibility and space planning study before closing the lease deal for PrepMatters' new Tenleytown office at 4646 40 th Street, NW.
The big question Ryan Byrnes had to consider was whether the 8600-square-foot subterranean lower-level space could be redesigned in a way that would create newness and that would be perfectly suited to PrepMatters in vibe, style, and function. To the untrained eye, the existing 1980-ish beige and brown décor, with its low-hung acoustic tile drop ceiling, gray fluorescent lighting, narrow halls, and cavernous rooms, suggested a dead-end obstacle to re-design. Ryan admits that the previous condition of the space was a challenge to get past. " While the site was a clear opportunity from a space planning standpoint, some suspension of disbelief was required to visualize a positive space experience in spite of the low ceilings, absence of natural light, and lack of connection to the outside."
All this gives rise to another big question: What makes for good space? Ryan plied his ware with methodical precision, design sophistication, and impressive intelligence. " While a strong plan is the foundation for creating a successful space, beyond the plan there is a process of discovering and leveraging space opportunities, introducing form, volume, and materials that articulate the plan and support the goals and desired attributes for the site ."
The process that ZGF engaged in involved understanding PrepMatters's culture, brand, and identity through a combination of observation, research, and – most importantly – talking with PrepMatters President Ned Johnson and other PrepMatters team members. A key contributor was Steve Himmelfarb, a commercial real estate broker, whose long association with PrepMatters gave him a special platform to offer thoughtful and valuable insights.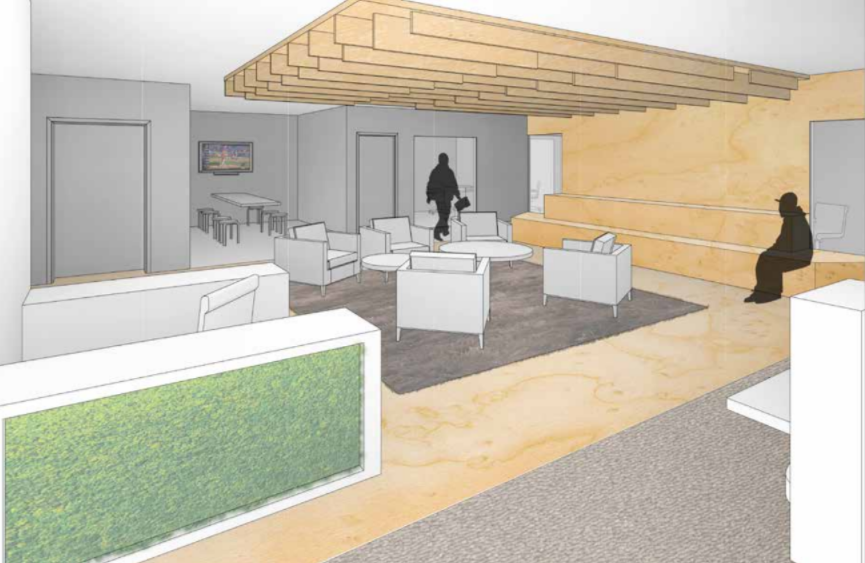 Ryan explained that moving beyond the plan and developing a 3-D model would be key to developing confidence that the basement could be an amazing sequence of spaces and could provide for a user experience that would perfectly align with PrepMatters's brand, staff, and clientele. PrepMatters worked with ZGF to establish design priorities consistent with the project budget. Key drivers in the design scheme focused on lighting and maximizing the sense of space.
No challenge in this project was bigger than lighting. PrepMatters placed the highest priority on a workable lighting package design, owing to the absence of daylight in the windowless space. ZGF consulted studies of Swedish lighting engineers to find high-quality and adjustable artificial lighting solutions that would compensate for the lack of natural daylight in the subterranean space. ZGF hit the bullseye, creating balanced lighting that moderates the space with an even and natural effect of daylight brilliance. Dimmer switches in each office allow for personalized lighting intensity that ranges from zen-like comfort to alert engagement.
As to space, ZGF leveraged the real estate footprint by allocating the right size to various space types, which has resulted in a maximized use of space. For example, the larger lobby serves to create a community hub that gives an impactful first impression. The lobby features increased seating capacity (like stadium seating!), a hospitality bar, and the flexibility to use the space for small gatherings by rearranging non-stationary furniture. Shrinking the footprint of tutor offices was compatible with the primary use of one-on-one meetings, while also allowing for the creation of more offices to serve more students.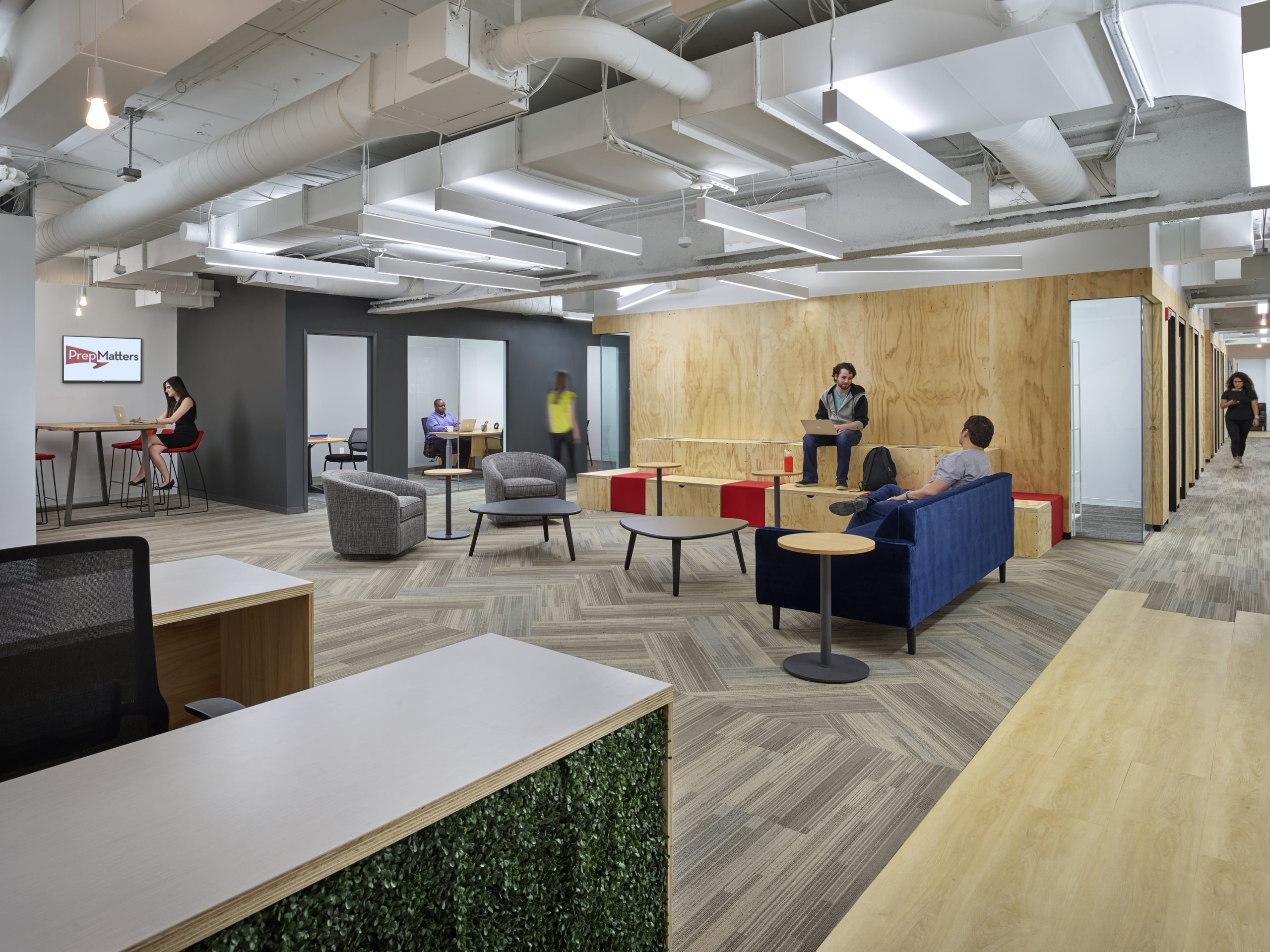 Halkin Mason Photography
Other significant drivers in PrepMatters's space design included:
The flexible use of space (adding a rock climbing wall and space for other physical activity to a traditional chair-based testing room);
Transparency and visual connection across most spaces (creating offices with glass that wraps the corner edge to give a see-around-the-corner view, in addition to a pass-through at the mid-point of hallways);
Modern, warm, and comfortable environments; and
The use of green products (natural materials, zero VOC paints, materials with recycled content, and LED lighting throughout) to support environmental sustainability.
PrepMatters watched as Ryan Byrnes and the ZGF team unfolded design specifications that laid the groundwork for transforming an outdated space into a jewel that far exceeded expectations for comfort, layout, feel, and function. Ryan and ZGF architects were the design lead, but the new PrepMatters Tenleytown office is the result of the hard work and exacting professionalism of the entire project team. PrepMatters offers special thanks to our other team members who helped answer our big question with their stellar professional contributions—Robert Pizzano and team at Pizzano Contractors for construction, WB Engineering for engineering design, Fran Anderson and team at Real Estate and Construction Management Partners (for owner's representation), Steven Himmelfarb at Himmelfarb Commercial for real estate savvy, Brad Steuart and Scott Mosely at Steuart Investment Company for leasing partnership , and Alissa Curry at FVC Bank for lending support.
Big questions invite big thinkers who advance big ideas to create big solutions. PrepMatters asked a big question and was answered with big success. Bravo, team!
*Ryan Byrnes completed the PrepMatters project while at ZGF Architects, but has since moved on to Jacobs.