Anyone who has taken a practice test at PrepMatters in recent years has likely met Anne Saulkalns, the warm and welcoming lady who administers practice tests under a watchful eye. She has been a stalwart at PrepMatters for some thirteen years but, sadly for us, has decided that it's time to close this chapter of her life.
Anne is at the hub of the PrepMatters practice test proctoring system. She prepares the tests and has them ready to go for scheduled practice test days. Only when you stop to consider the number and variety of different tests to be administered do you realize the scope of that role. During her first days with PrepMatters, Anne worked with client billing, but she now concentrates on her role with practice tests and with special projects that come her way.
Those of you who have met Anne may have noticed her Dutch accent. Anne was born in the Netherlands and still maintains close ties with family members there, traveling home for visits each year. She left her homeland for England at the age of 21 with the goal of improving her English language skills. The plan was to work there for a year and then go on to spend a year each in France and Germany, but fate intervened in the form of romance. It was in England that she met and married her Latvian-born husband, and later they emigrated to the U.S.
Anne's first job in the States was in Boston, where she did payroll and accounting work during the early years of her marriage. After her children were born, however, she became a stay-at-home mom. When she was widowed in 1999, she remained living where she was (in Houston) until her daughter, who had moved to our area to attend college, convinced her to relocate. It was when she visited her daughter one day at the Georgetown Law Center that she met a PrepMatters tutor and was asked about helping out that weekend proctoring tests. Anne agreed, stepping out of her retirement to lend a hand, never dreaming at the time that it would turn into a 13-year stint. But that's what happened. And we're so very grateful that it did.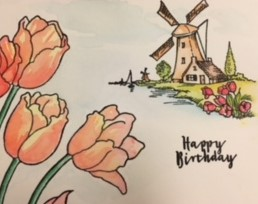 Those of us who have worked with this wonderful lady will miss her personal warmth and quiet efficiency. She closes out her tenure with PrepMatters at the end of May but doesn't expect her life to change dramatically after she retires. She plans to keep the same routine she has now on days she isn't working – one that primarily involves morning coffee, lots of reading, lots of walking, and occasional crafting stints to create personalized greeting cards.
On the day after she leaves us, Anne will board a plane for the Netherlands, to once again visit with family and loved ones. Bon voyage, Anne. We will miss you!