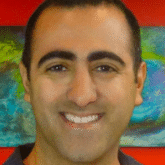 Email: [email protected]
Phone: 301.951.0350 x148
Bio
SAT, ACT, and SSAT tutor Massiha Habibi has an enduring interest in understanding how complex systems work. His participation in and enthusiasm for science and academics earned him many honors in high school, including an award for "Most Likely to Marry Physics." His first and second television appearances were on DC's local gameshow "It's Academic." Knowing that the undergraduate years are the best time in life for in-depth study of subjects of interest, he took a course load heavy in social sciences, hard sciences, and math. Massiha graduated from College of William and Mary with a Bachelor of Science in Psychology and Sociology.
As a child, Massiha accumulated a formidable collection of nicknames, with "Moose" becoming the ultimate winner. In his free time, he is driven to understand how people think, and is known by friends to have an unquenchable thirst for asking people about their life experiences and their areas of expertise. He enjoys staying informed about the latest technology, science, and international news. He also enjoys EDM (electronic dance music) concerts.
Philosophy
Try this analogy: Learning a subject is comparable to hiking up a forested mountain, while performing on a standardized test is akin to running laps. In other words, teaching is about helping a student over rough terrain and making sure they don't get lost, but tutoring a student for SAT and ACT test preparation is closer to repetitive, focused training. The goal isn't to expand a student's thinking, but to build proper technique and make the process automatic.
During SAT and ACT test preparation, I introduce students to the approaches and techniques that are most effective for these kinds of tests. I identify what is slowing them down or holding them back. I guide them to practice where it is most needed. Most importantly, I make sure that students are calm when they arrive on test day. They can look at the test book, knowing there are no surprises in store for them.
With one-on-one tutoring, we can go much faster in the areas in which a student is comfortable and stop to point out real world connections. Whether tutoring for a test or an academic study, it's most effective if the student enjoys the process. Helping a student get to the moment of clarity at the end of the proverbial hike or achieve a new personal best are a joy. The biggest thrill is helping a student discover a subject they want to explore for the rest of their lives.
Testimonials
Not only was my daughter comfortable and felt the tutoring was beneficial, but even the administration was resourceful and easy to work with.
Why Do Test Scores Go Up and Down? (Consistency is Hard)
How Many Test Prep Sessions Should We Have?